The technological platform provides users with a fleet of equipment, divided into 4 technological poles.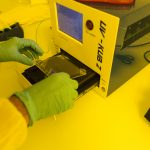 The microfabrication pole of the clean room has several complete sectors for the production of micro-devices, dedicated in particular to the manufacture of molds for microfluidics.
More specifically, the platform has the equipment for the following techniques:
Direct or indirect lithography: resin coating, aligners/insolators, laser lithography, mask manufacturing
Prototyping: The mechanical workshop allows you to carry out different types of operations (3D printing, metal engraving or glass engraving)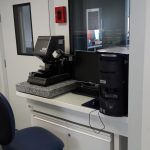 Several parameters, controlled or not, can change the expected characteristics of the manufactured device. Users must therefore ensure its characteristics
For this, they can rely on several pieces of equipment to determine the dimensions of the resulting design. For more complete visualizations, we have a fleet of several scanning electron microscopes (or SEM).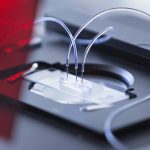 The microfluidics division offers a range of varied materials for different types of needs and applications.
- Technologies in elastomeric materials (PDMS), adapted for rapid prototyping in fundamental research
- Thermoplastic materials (COC) technologies, suitable for large-scale and low-cost transfer of chips into production
- Hybrid technologies, including inorganic materials and chemically resistant adhesives of the epoxy or acrylate type, interesting in terms of chemical and thermal resistance, and allowing to integrate active and passive elements such as electrodes, biosensors ...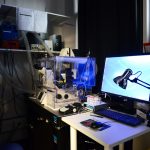 Biology occupies the first place of the uses of microfluidics. Cheaper, less consuming and less voluminous, chips are supplanting traditional biological research equipment.
To allow users to test their chips, the platform has a cell culture laboratory, as well as a microscopy room.
The equipment of the technological platform
Zone technique 02
Une centrale de traitement d'air permet d'assurer un contrôle de la contamination particulaire, de la température et de l'hygrométrie en salle blanche
Zone technique 01
Une centrale de traitement d'air indépendante qui permet d'assurer un contrôle de la contamination particulaire, de la température et de l'hygrométrie en salle grise